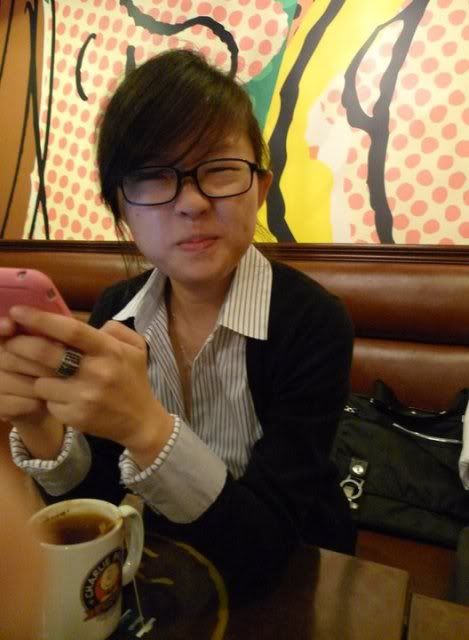 Today officially marks the 2nd month of me being here. I've almost settled down here, with a bunch of good friends to hangout and have fun with. Yet, sometimes I do prefer being on my own, taking the public transport going all the way down to the city centre. It's far and takes me almost an hour to get to those places like Tsim Sha Tsui, Mongkok, Causeway Bay or even Central. Anyhoo, everything turns out well as the security and public transportation is Hong Kong is so much better and reliable when compared to Malaysia.
Still dealing with the mid terms stress and some assignments which are due this week. Also, 'cause I was being a bit gatal, I joined one of the marketing competition and now I have to submit an executive summary which is due next Saturday.
So yesterday's weather was really good, if it wasn't for the workshop I could have sleep in. Had milk and cereal for breakfast and then headed to Chinese University of Hong Kong in Sha Tin for the workshop. Me and Rebecca left the workshop before it ended and headed to the mall in Sha Tin for lunch. I had this sudden craving for KFC yesterday and so we settled there. The variaties of sets in Hong Kong's KFC is so much wider and better than the ones in Malaysia. I had a curry chicken pocket, a piece of chicken, rice with mushroom sauce, Portugese tart and a drink for around HKD40. Superbly satisfied with it, definitely finger licking good.
:D
After lunch, I went to TST early for Alex's birthday party. Since I was an hour early, I went over to the H&M on Canton Rd for a peek. Left there without anything then went back to the MTR station to meet my course mates. The birthday dinner was held at Charlie Brown's Cafe. Food and drinks prices there were tad expensive. Plus, this is based on my personal experience, the waiters there were quite rude to us throughout the whole night. Not only you get the whole Hongkie cocky attitude, basically they were just being prejudice to us. URGHH! So much for being a tourist attraction. I couldn't bothered giving them a smile when I was talking to them afterwards.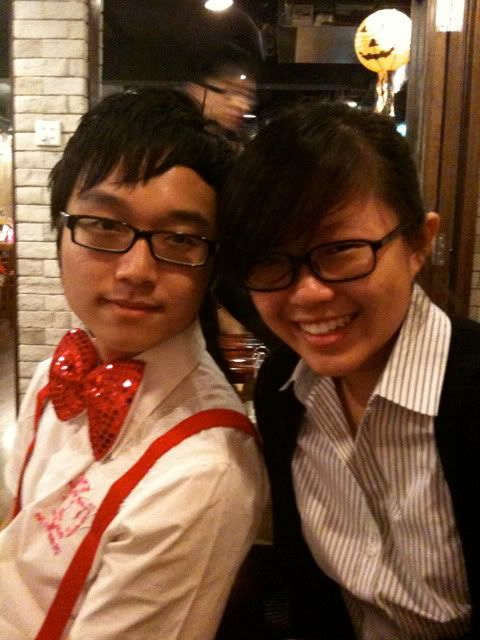 Me and the birthday boy, Alex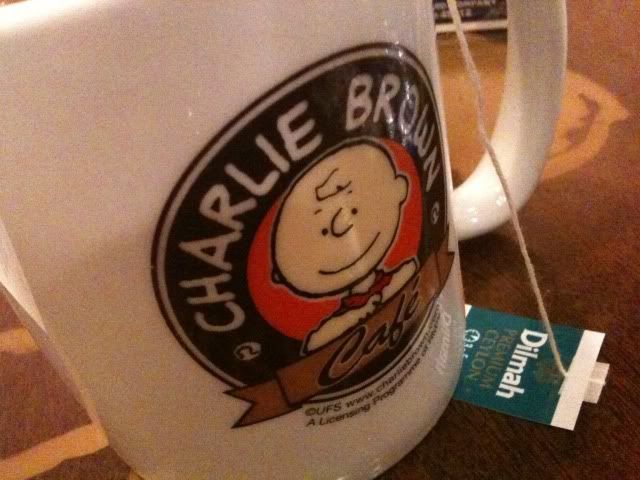 The tea tasted abit weird when it was first served, after it was kinda cooled down it tasted better.
:)
The hot cake was really dry. Not satisfying at all.
:(
This dinner costs me around HKD56. Well, it's considered reasonable for such theme cafe I guess.
If you're really a big fan of Snoopy or Charlie Brown, I would say that it's a nice place to drop by. Just ignore my comment on the waiters there as the cafe runs on a self-service mode. So basically if you're come in a small group, they won't piss you off.
:)
Click
here
for more of their outlets. For the one that I went to, you can get there by getting off at the Tsim Sha Tsui MTR station and exit at the Exit B2. Turn left once you're out of the exit and after a 2-3 minutes walk, you'll see their LED board on the right hand side of the street.
Sorry for the lack of pictures as it was all taken by my iPhone except my portrait which was taken off from Facebook.
:)
I shall head back to work now, have a great week ahead everyone!
three seconds to say i love you, lifetime to prove it - V.C

♥