This is
my
kind of restaurant, quirky, fun and relaxing! Everyone who goes there are chilled and laid back, they don't give you those weird stares when you're die laughing with your bunch of
kakis
. Of course, as long as you don't interrupt the others' lunch,
heh
!
My drink, Lychee Mint
something
? I had this for my both visits. The first time I had it, the after taste of the mint was heavier, more to my liking. This time, with the lack of the after taste, it was just like a lychee freeze.
Notice the table top? It's decorated with old mandarin newspaper! I forgot to take pictures of the interior of the shop, boo!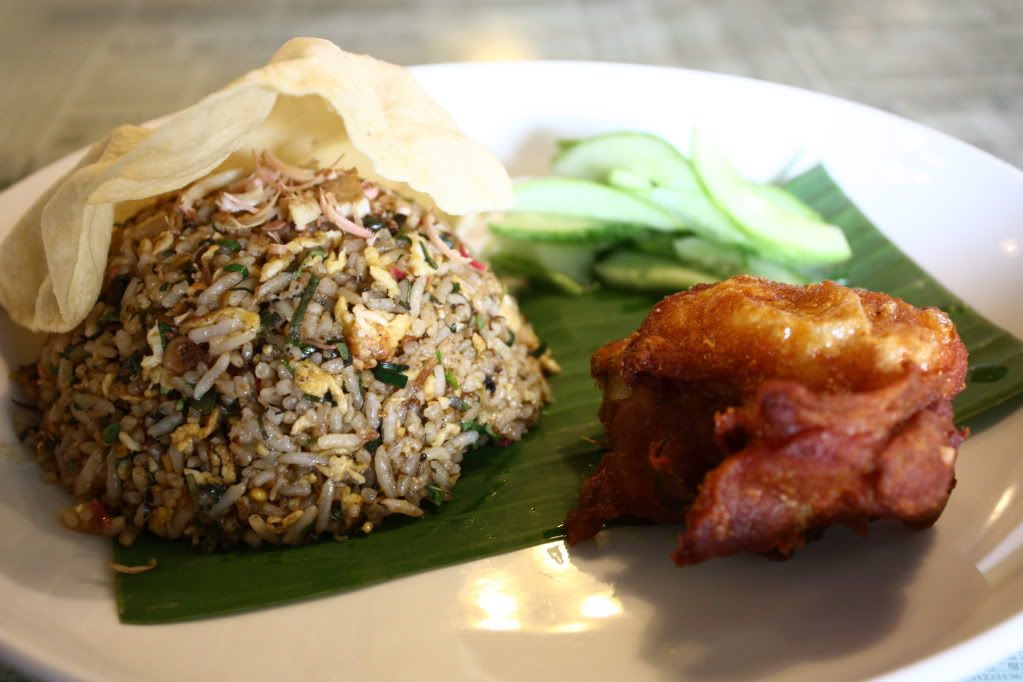 Another boo for me for forgetting what nasi is this. It's fried with the torch ginger flower, the pink flower that you see on the laksa. Smells fantastic and tastes kind of refreshing after each scoop!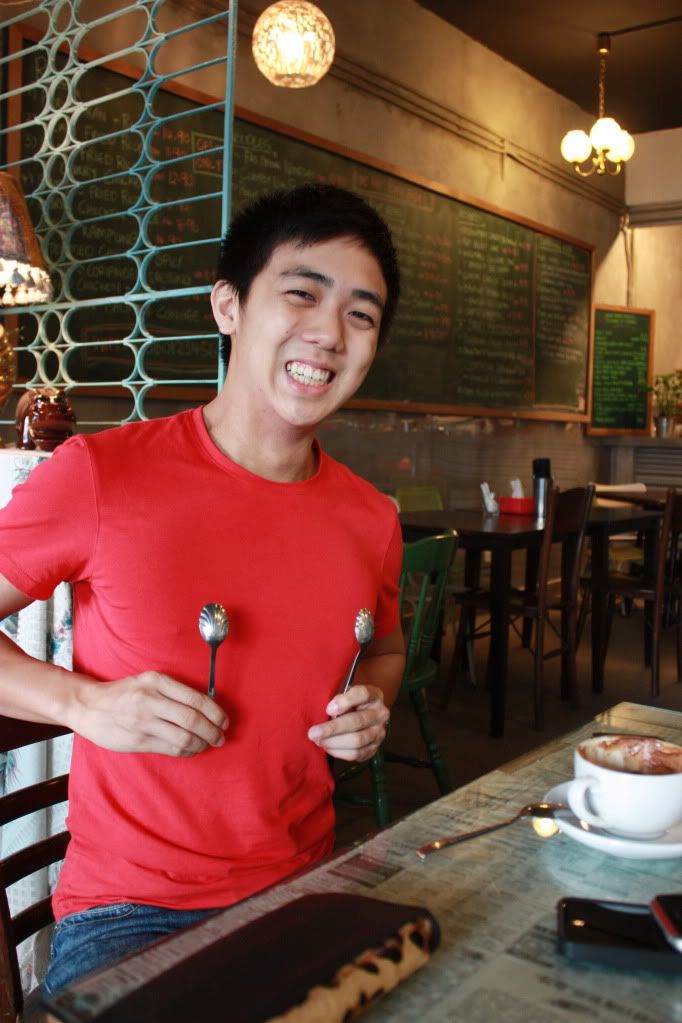 I was there for tea time with Benj, Ju-Hann, Amanda and my new friend, See Yau
(above)
. A crazy catch up session, filled with
trans-
joke (after the whole Transformer fever). The best one was made up by one of the guys, sorry I have short-term memory.
Hey, do you know which Transformer can't be moved?
TRANScript.
Well, if you don't find it funny, maybe you're not into the whole
trans-
joke thing yet. But yeah, the whole cracking joke thing went a little bit
kuku
afterwards.
So back to where I was, tea time, yes. I was the only one having a main dish since I delayed my lunch just to have it in Fat Spoon. All the others had a drink or desserts. As for me, I had two desserts, talk about being a crazy foodie.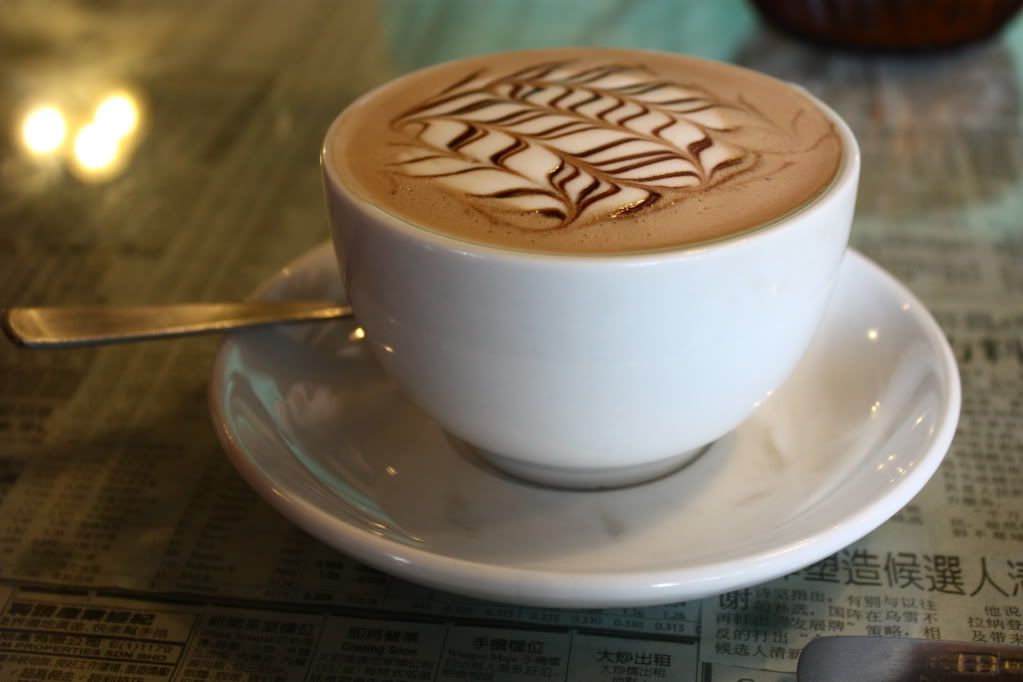 Hot Chocolate for Ju-Hann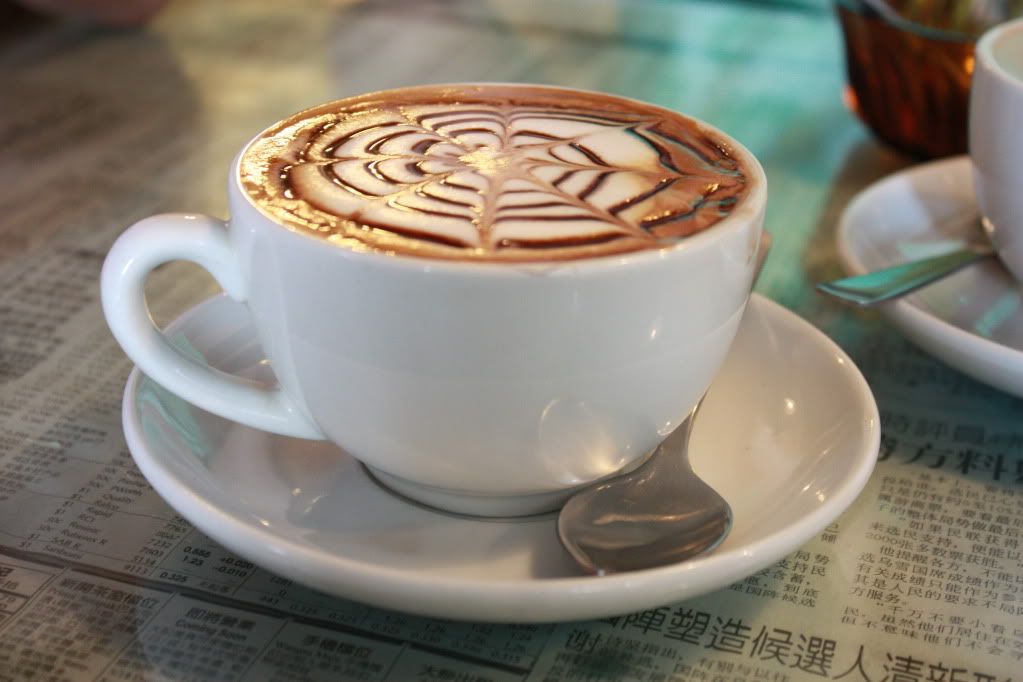 Mocha for See Yau
Drinks for the
ah peks
and desserts for the young ones.
See Yau, Ju-Hann and Benj, all three of them can definitely be crowned as the joker of the year.
Cream Caramel Pudding, I'm lovin' the bowl.
Red Velvet Cake. It tasted tad weird for Amanda, but I remember enjoying myself every bite the last time i had it.
Banana Spring Roll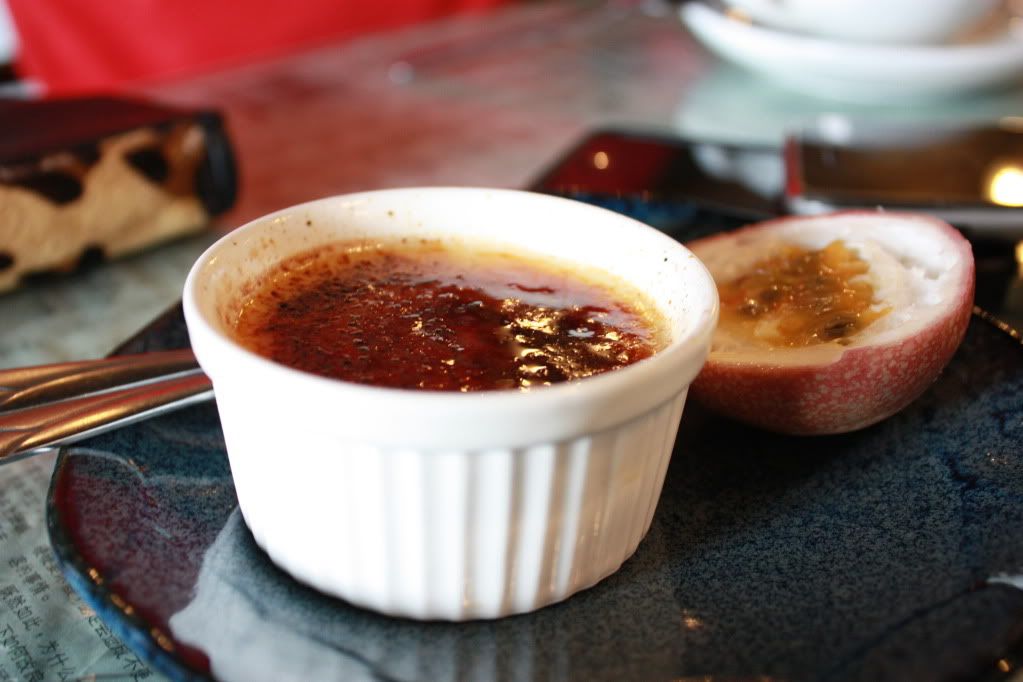 Creme Brulee with Passionfruit
I'm so lovin' the food and place that I would still need to be there for at least 2 times before I head back to Hong Kong. There's also good reviews on the restaurant on the internet, maybe you'll get a better insight of the shop from the other blogs or maybe their
Facebook
page.
By the way people, even though I'm having an internship now I'll be jetting off to Jakarta for a weekend next week because of
this
! That means I'll be missing out on MTV World Stage, but I'll still be catching Neon Trees in Jakarta with the other awesome bands. Looks like it's time for a change for my playlist.
And finally the long awaiting
Urbanscapes
is here! As usual, I'll be expecting to see a lot photographers with their flashy lens and a whole new fashion scene that I don't really see in KL.
*fingers crossed*
there won't be any more rain. It's time for me to pack up and go to bed since I'll be working from 8am on a Saturday, just in case you need a check list before heading out, click
here
. How I wish I have as many readers as the views on that post!