Screwed up my accounting quiz really badly, results were already out although I just sat the paper yesterday. Sorry papa and mama!
:(
I really need to buck up for my finals and finish up the assignments and projects!
I headed out for my good food weekend and to also pick up a birthday present for my friend. I forgot to use the H&M 20% phone voucher
*smacks self*
! Checked out the stores, and spotted H&M x Lanvin on the street and a girl in the shop, holding 3 big paper bags of the items! Got a glimpse on my favourite dress from the collection. Everything's basically wiped out! I'm not surprised since the people here are willing to spend on branded stuffs, VERY willing.
I had my dinner at Langham Place, Mongkok after browsing through the stuffs in H&M and Monki. Headed up to the level 4, it's my first time going up even though I've been to the mall countless times. I picked Match Too Cafe to dine in.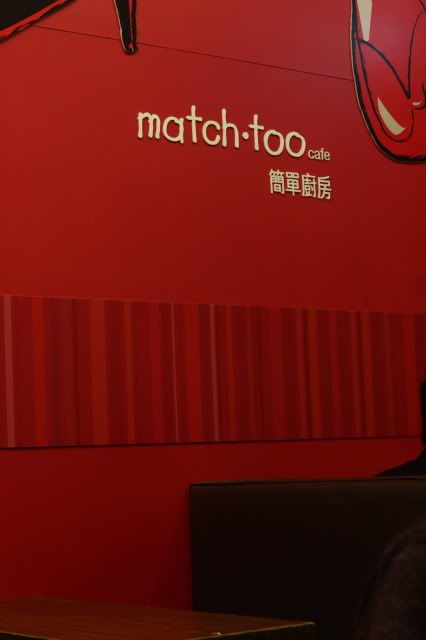 They have really quirky menu, I likey.
:)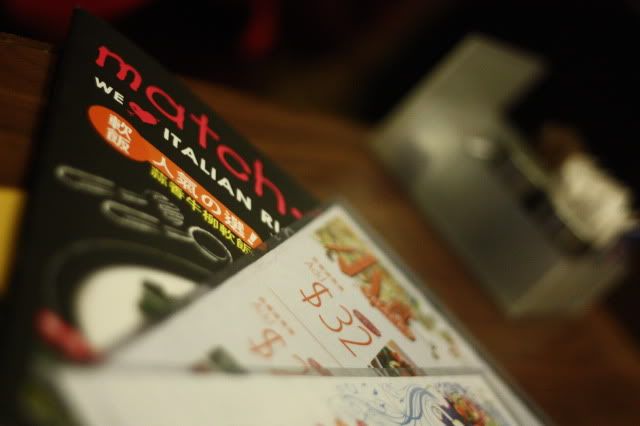 I had their Beef Fillet and Truffle served with Italian Rice. It's the dish right behind the cover page. Not quite sure did I remember the name correctly.
:P
Frankly speaking, it isn't really a cheap place. Plus I need to say is that their dinner set isn't cheaper than the ala carte at all. Basically they add on the drink with the main course's price and calls it a dinner set. I wasn't really satisfied with the way they did it and so I just ordered in the ala carte way.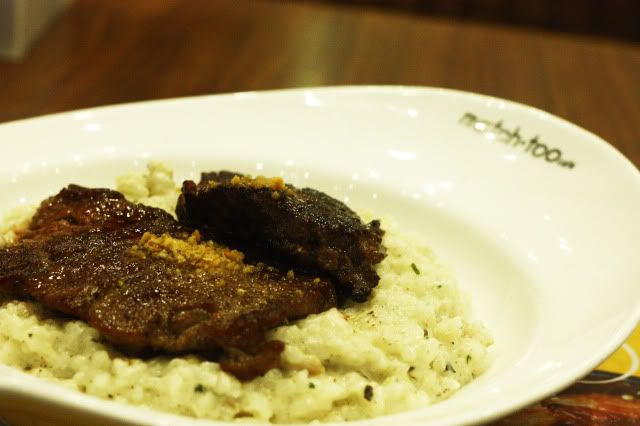 It was really nice, though the beef's a bit dry. Very filling as the Italian rice is creamy. Service there is below average though I would say. However, it's still a nice place for you to visit after you do your shopping in Langham. There's also a mini food court at the same level, consists of only 4 vendors. One of them is Pepper Lunch.
:)
After the dinner, I went to Fa Yuen street. This is the first time of me being there during the night time. First thing that I got there was cherries!
:D
Mama has been always asking me to get fruits since I got here. I had bananas because I'm a lazy person. The cherries was $35 for 1 pound. I don't know whether was I conn, 'cause I've never bought fruits before.
:P
But I saw two stalls putting up the same price and so I got it in the end. Then, one of my purchase tonight was two pair of flats for only $100!
:)
I was actually wanting two oxford shoes for $130 but the sizes were too big for me.
Well, my main purpose to drop by Fa Yuen was to get my all-time favourite
gai dan zai
but I ended up leaving with loads of cheap stuffs. Like there was this stall which was having 50% off all their accessories. I got a medium size mirror to put on my table for only $30!
:)
Everytime I really shop at Fa Yuen I always manage to get a good deal, that explains why I love going there. Oh, just for an update, the shop which sells curry fishball that I major love, has already closed down.
:(
Now directions time! To get to Langham, just get off at the Mongkok MTR station and take the Langham exit. For Fa Yuen street, also get off at the same station, take exit B. Supposingly you should pass through the tunnel and come out of the station. From there, take the escalator and you'll be on the pedestrian bridge. Then just follow the directions.
:)
On handy tips, to avoid the traffic light and crowd, sometimes you can get to different places within an area through the different exits in the MTR station. Just get the exits right ok?
:)
weekends just don't feel like weekends anymore.