It's just one of those days, I just want to be by myself. Woke up at 1 in the afternoon, lay in my bed till it was 2. It's been an
everyday thing
where I wake up and just straight away grab my lunch then I'll be off for something.
Today, I chilled at home finally after 5 consecutive days of outings. Actually I'm suppose to unpack my stuffs which I brought back from Subang last week. Mom's very unhappy about the overloaded stuffs in my room. It scared me when I was clearing my wardrobe the other day. Clothes to keep, sell and donate are just a lot. Speaking of selling clothes, that means work too. I'll have to pick out some time to do the pictures and updating
preloved-ann
.
Just a little recap on what I did. Lots of awesome food stuffing session with my family. Friday, I finally watched a football match outside. Yep, it was Brazil's match that night and they lost. Me and
Kai Bin
manage to catch the first half of the match at Starbucks, Bangsar then went over to Mist because of
Astin
. First time to club after A levels ended, surprising?
Not
.
:P
As for the weekends, I had karaoke sessions 2 days in a row as I've mentioned. 5 guys and 2 girls were supposed to sing our lungs out for 5 hours. In the end, the 2 survivors were me and
Xian Hui
. We ended it with tonnes of ol' school mandarin songs.
:)
Then, us both girls had dinner at the Wong Kok Restaurant and did some catching up. Definitely love times like this. Not to forget a sponaneous movie session with Jeremy & Denise too.
Yesterday, I had my earliest
pre
-birthday celebration with and had a present from
Kai Bin
. We watched 9 Temples and trust me, the movie suck. Put the blame on me 'cause I was abit
gatal
for not watching horror movie for a long time and so I chose it over The Legend is Born: Ip Man.
:(
Dinner was at CraftBrew, Mutiara Damansara. Another posh place to dine in and have beer drinking session. No pictures were taken as I didn't bring my cam out. They have a foosball table there, guess it's an ideal place for the guys and girls to hangout together. Guys can be
ber
-bonding at the foosball table while the girls can chat on their own, back in the dining table.
:)
Food was satisfying and came in a big portion. Desserts was super filling too. By the way, thanks for everything dude!
:D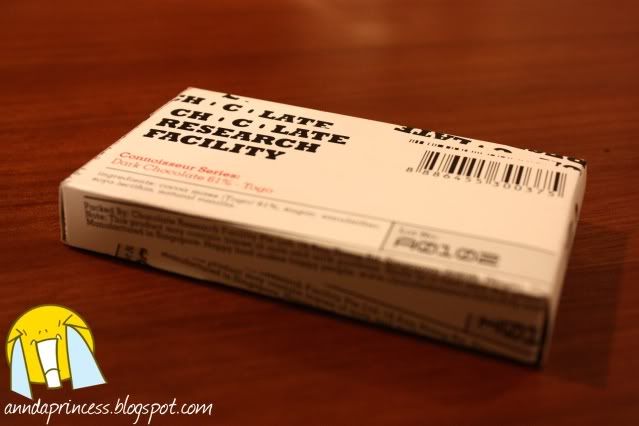 a choco bought from Singapore

:)
the invitation somehow made my day

:)