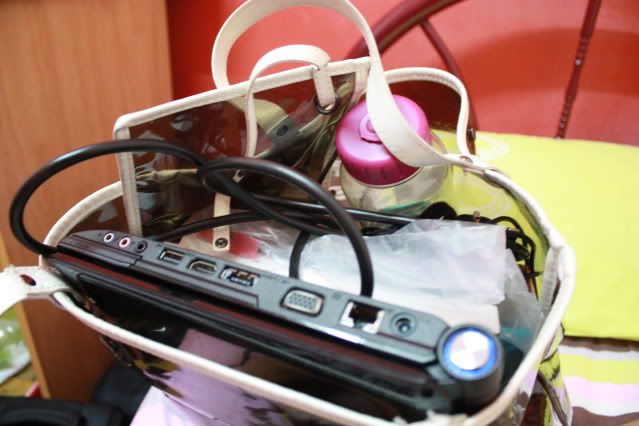 One of my
chun
-ted accessories,
the
MNG
bag.
I honestly thought that I would have my bag torn before I manage to reach my hostel. No joke, I actually stuffed my laptop into the bag because it was drizzling and I wouldn't want to have it wet, slipped off from my hand or whatsoever that spells
unlucky
. If this bag could last me that long, I really don't understand what went wrong with my black
MNG
bucket bag. That bag was like the love of my life and because of it I still haven't find the next ideal black tote bag for my everyday use.
Items in my bag
Laptop and its adapter
Thick Business Studies textbook
the not-so-thick Economics textbook
Starbucks daily planner
Pencil case
iPhone and earphone
Sweater
Water bottle
Purse
Calculator
Keys
mini
mentos
On my hands I was holding this uber thick clear folder and an umbrella. Tough life as a college student
I also went through a spontaneous talk with a representative from HKU today. It's a good thing at least the IBGM people will know more about me right now, not sure whether in a good or bad way. Anyway, still *fingers crossed*.





It's the SC's last event tomorrow.
Pass me a

green

bottle tomorrow kayy?

:)