Woke up to this fantastic news yesterday on my
Twitter
. I didn't expect a news on a collaboration from H&M to come out so soon since Lanvin x H&M collection was just out at the end of last year. Well looks like time passes really quickly, by the time the launching of Versace x H&M is done, it has been a year since I first started my studies in Hong Kong.
As told by
Donatella Versace
, the chief designer of Versace Group, in the video, be prepared for studs, leather and prints. Here's one of the pieces from the collection that has been worn by her at the Versace men's fashion show in Milan on June 20th, 2011.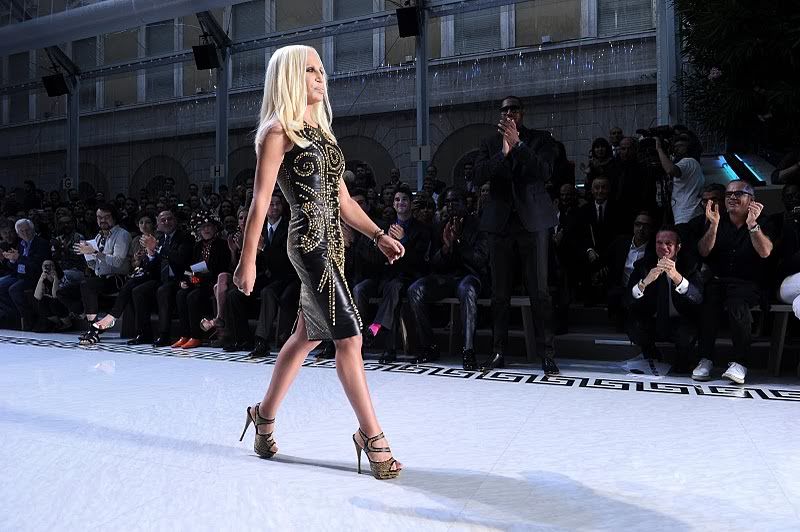 This fall, you'll be seeing the collection being launched on the 17th November in around 300 H&M stores worldwide. The excitement doesn't just end there a pre-spring Versace x H&M collection will also be on the racks in this Swedish fast fashion chain store on the 19th January 2012.
Well, let's just say, this collection will definitely not go easy on a student's budget like mine. Hong Kong, also being one of the most fashion-forward city in Asia, has plenty of fashionistas walking on the streets every single day. I expect the queue to be as bad as Lanvin's.
Still, only when the full collection is released I can justify the amount of time and money I am going to spend on these iconic, exclusive items.
This
was what I found while writing this post. Well, I am just going to use all sorts of those business knowledge I've learnt, pondering on the question, why Donatella changed her mind.
So here I am, back on track blogging. I'm still stuck in Hong Kong with typhoon warning and heavy rain. Blogging will be one of the best way for me to past my time here, I promise another post tonight.