Since christmas is coming soon and new year is on its way, I guess it's not too early to jot down my wishlist for the year.
When we were in secondary school it was so easy peasy to get an access into the school library and not to mention the school compound itself. Well in Taylor's it's a totally different story. Everywhere you go in Taylor's, you definitely won't want to leave your student I.D card behind. It's really troublesome to remeber all the time as most of us are unwilling to wear the lanyard that Taylor's gave us, because it is just so un-cool! So if
How2Shop
is willing to grant my
first wish
then it will just be awesome! Can't help myself to imagine how it would look like if the
Coach Signature Badge Case ID Holder Lanyard
was mine.
*grins*
So next, is a college girl's must have. A trendy large XXL tote bag to put our textbooks, lecture notes, past year papers, calculator, purse, water bottle, tissue, pencil case, cardigan, lip gloss, the pad, whoops! Did I gone to far? You know lah, girls what. =D That's why this Nine West In The Bag Large Shopper should be mine! So that I will never need to be in this pose again. LOLS!
The last wish would be to have the Coach Bonnie Leather Zip Envelope so that my Guess purse could give herself a rest. Look! She's totally worn out. Poor thing :(


Oh, did I mention that the purse's black and white combo is just so Chanel-ish!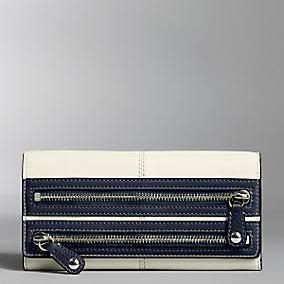 So, How2Shop santa,
please please please grant me my wish! :D
any one will do.