It's a quick update on
0901PB2's ultimate night gathering
.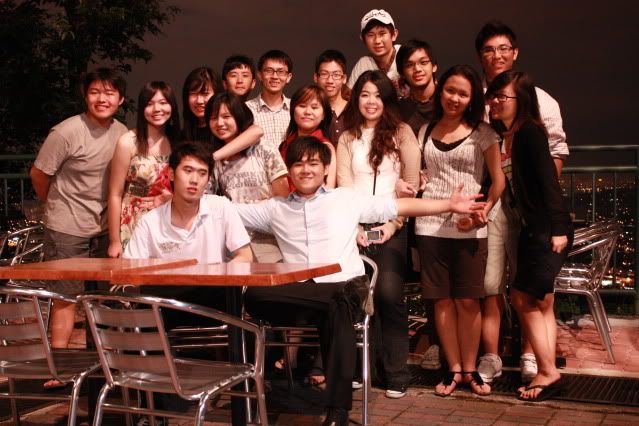 It took us quite some time to get this pefect picture of our class. You might be thinking, can't you just ask a waiter to snap it for you and solve the problem. I did that at first and the picture was blurry and seriously tak boleh pakai. Then their boss came along and offered us help when I was trying to adjust the camera. So I passed it to him and again, FAILED. In the end, we resorted to timer and this is the outcome.
Thought #1
: Alisa and Zhafran are MIA again. When can we actually get a proper class picture? HAHAHA
Thought #2
: PSSST! Did you notice Wooi Yun took off his specs? XD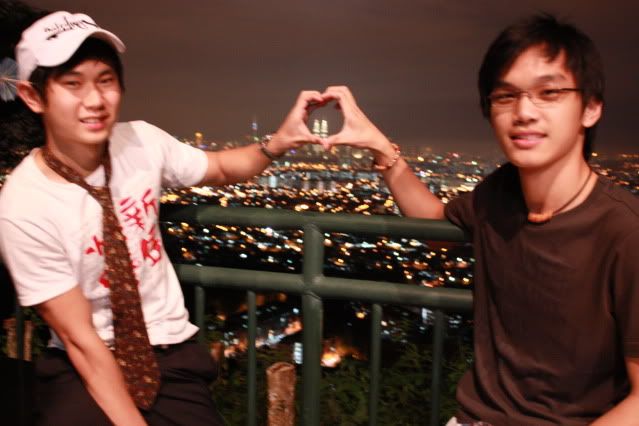 There's always a gay-in-action session when PB2 is out.
Thanks Jade for the picture.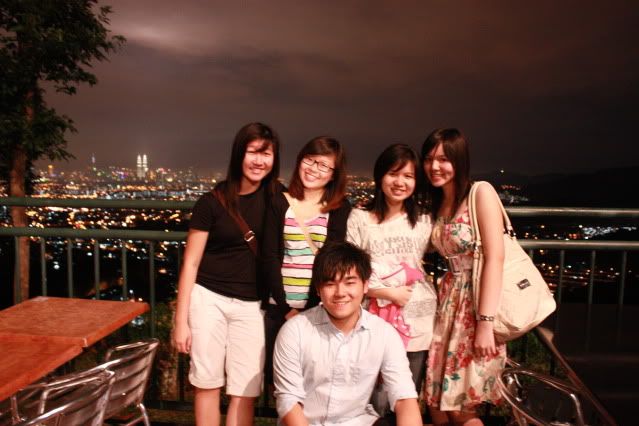 Again thanks to
Jade
for this pretty picture.
We had our dinner at the Panorama, Ulu Langat. Food wasn't really good but since we went there for the view so it's ok I guess. We acted like a bunch of troublesome kids when we got there. First, we asked for a place at I-FORGOT-THE-NAME place and got the tables arranged for us. Then, most of the people went to the loo. Those left out were just there going through the uber expensive dishes and decided to find the loo-people. In the end, we kinda abandoned the restaurant after using their loo. So we hid ourselved up at the restaurant called Panorama because it's loacted right top on the hill nowhere near the I-FORGOT-THE-NAME place.
I spent time adjusting the camera settings as there weren't nice external lightings to depend on. And since I don't like using my camera's attached lens, it made things more troublesome. Anyway I still manage to get few nice pictures. :)
*pai seh la, I'm still learning
*
After dinner, we drove all the way to Solaris, Mount Kiara for a drink. If I'm not mistaken we had our coffee at Dr Cafe Coffee. I ordered Relax Mint Cocktail which actually tasted like vegetable juice. Surprisingly I actually enjoyed drinking it. The tiramisu there was awesome!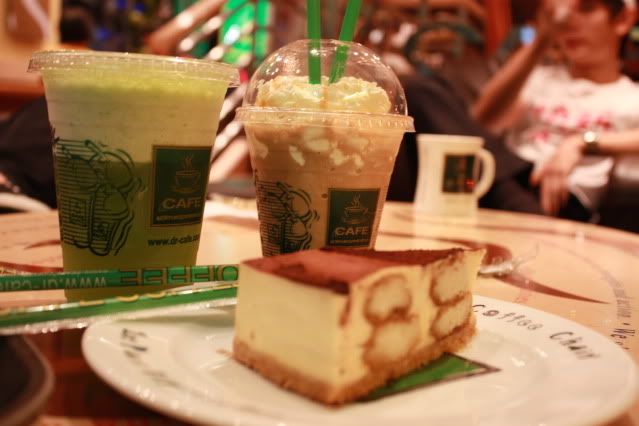 D cake and drinks.