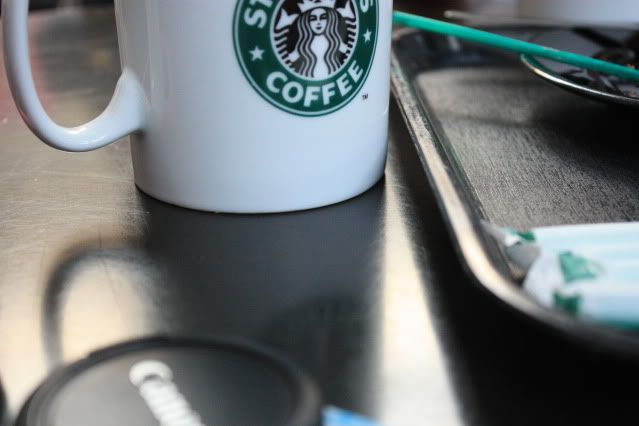 Really enjoyed my day today.
Rushed to college right after my bath to attend a meeting. At the same time, I also got my puffy-shouldered blazer. It's definitely going to be one of the staple in my closet for this semester. So back to the meeting, I volunteered myself to design the poster for our upcoming event.
*cross fingers*
I'll come up with a fantastic design before this Thursday.
The chilling session at Starbucks is just really laid-back and what I would like to do more often. I finish collecting the stamps from Starbucks today but unfortunately the diary book that I was supposed to redeem is apparently out of stock in all the Starbucks around Subang area. Just pray hard I'll get the book before the deadline this time as it's really a gem.
I
should
and
must
stick to the timetable I set for myself. I don't want to say it but I feel really bad for not putting in more effort in my studies during this holidays. So I think I'll have lots to catch up after this semester starts. Please tell me that I've already watched enough movies during this holidays and I don't really need one more as it's just a waste of time.
Tomorow I must finish my Economics essays and I will not step out of my house until I finish those mind-boggling essays. I really look forward to the first day of my last semester. I miss my classmates, I miss the lunch session, I miss my lecturers and I just miss the time when we would warm ourselves outside the classroom every intervals between the classes. Well, secretly I do hope that I could skip the rushing-homework part before college starts. Then that would be just perfect.
So I will be partying or maybe stoning at Joey's place this Friday. But before the fun starts, I need to attend another meeting on Thursday and a trip to Cheras with the editorial board on Friday morning. Sigh, transport problem again. If I could only just dare to drive my dad's manual Accord all the way to Subang.
To-do list for 4th of Jan
Finish Economics essay
Have a rough idea on the design of the poster
Oh oh! So instead of not watching movies, I've opt to read other people's blog. Lucky me, I found a blog which I personally really like it and I'm already admiring this blogger's talent. Let's just hope that this blogger updates frequently to keep me away from PPS.
The Dictionary application is really useful.